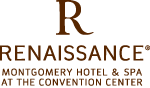 Phone 334.532.0700
Toll-Free 888.668.7221
renaissancemontgomery.com
Facebook
Twitter
The Renaissance Montgomery Hotel & Spa at the Convention Center brings to Alabama's capital city a rare combination of unparalleled Renaissance ambiance and an unmatched location. Adjacent to the convention center and convenient to the spectacular Robert Trent Jones Golf Trail courses at Capitol Hill, the Renaissance is just 15 minutes from the Montgomery Regional Airport.
346 luxurious rooms and suites in the heart of downtown, close to the baseball stadium, river amphitheater and numerous dining options and museums
9,000 square-foot European style spa with treatment rooms, men's and ladies' quiet rooms, steam rooms, exercise/fitness center, movement studio and salon
A total of over 140,000 square feet of hotel and conference center meeting space, including the 14,000 square-foot Grand Ballroom and a 1800-seat Level 1 Performing Arts Centre
600 car garage
Four Diamond – AAA
The Renaissance Montgomery Hotel & Spa at the Convention Center has over 73,000 square feet of meeting space, a European Spa and an 1,800 seat
Performing Arts Centre
.
The Exchange Lounge features unique cocktails and offers live entertainment every evening. The House Restaurant conjures the memories of past comforts and opens the local palate to the new age of fare.
Other amenities include:
Lavishly appointed hotel rooms
High Definition LCD televisions
Fitness center
Outdoor pool and whirlpool
Jogging/fitness trail
Barber/Beauty shop
Evening turndown service
Room service
Laundry on-site
Valet dry-cleaning
Discover local attractions from our hotel's convenient location near Alabama State University. Experience exciting events at the adjoining convention center and Montgomery Performing Arts Centre.
Convenient to Maxwell Air Force Base, our hotel is just minutes from championship golf at the Robert Trent Jones Golf Trail at Capitol Hill.
Other entertainment highlights include:
Alabama State Capitol
Montgomery Performing Arts Centre
Robert Trent Jones Golf Trail at Capitol Hill
Rosa Parks Library and Museum
Montgomery Museum of Fine Arts
Civil Rights Memorial
Montgomery Zoo
Alabama Shakespeare Festival
Old Alabama Town
Hank Williams Museum
Dexter Avenue King Memorial Baptist Church